Finally got my intake castings in. They came out pretty good. I may need to tweak my pattern a bit.
A good part of the flanges will be machined away. I purposely made the a lot larger than I needed. I like options.
I left the intake to head port as an oval. I will machine in the injector port area after I have drilled the injector bung.
While I was waiting for the castings I went ahead and made my injector caps for the hard lines.
Not perfect but nothing I make is:)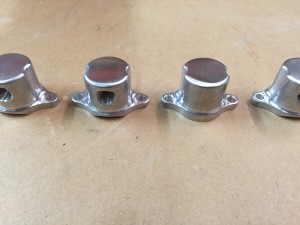 Here is a shot of the first two ops
Next week I'll have time to get on the manifolds. I can then start to do the linkage and fuel delivery.
Fun stuff!