Started working on cam tower mods and oil distribution. The plan is to pull oil from the oil pressure switch bung and Tee it to the front and the back. The front was pretty easy because I had incorporated material in the casting. The rear…Meh not somuch.
Production heads will most likely use the #1 cam tower at the back to supply oil but that was proving to be impractical on the prototype so I opted for a different path. I took an extra #2 tower and made a manifold plate to bring the oil in.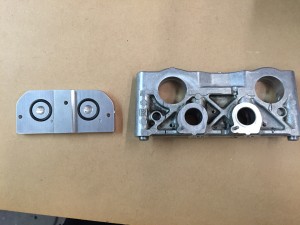 I doweled both pieces to maintain alignment. I tapped the tower and it's held together with three screws sandwich style.
Oil is fed in the bottom. and it's cross drilled and plugged to supply the shafts
Tight fit but it will work.